Come say hello to us at Reuters Wind Operations Europe 2021 where our MD Mus Rezzoug will be speaking on a panel about "Building, developing and accelerating data strategy and analytical capabilities' of wind farms on the 18th of May at 10:15 AM European Standard Time. We are also delighted to be a Silver Sponsor for the event.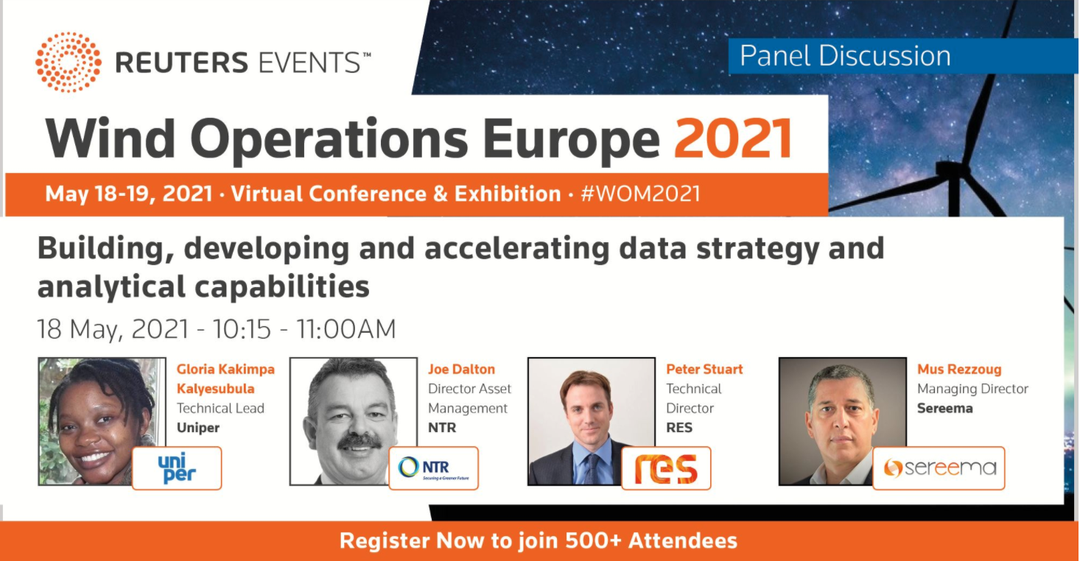 Meanwhile, read our Q&A.
What role does your company play in the European wind O&M space?
Sereema stands out as a leader in digital tools focused on providing wind turbine Operation and Maintenance excellence. With our unique embedded technology, we produce insightful key monitoring and data analysis as an independent data provider. Our user friendly technology has been proven to enhance productivity in day to day operations in terms of production, maintenance and overall use.
What are the most critical challenges in European wind industry that need tackling head-on?
Overall, the wind industry market is growing, both in size and complexity as PPAs and M&As are occurring left and right. So, actors are in need of combining a global vision and accuracy for decision making. Today, the European wind industry also faces fierce competition to hold on to its Global leadership in the sector. It will succeed by staying ahead with regards to technology and innovation. We can see it in infrastructure for Offshore floating wind for example but it will also require a lot of digital innovation to stay cutting edge.
What do you see as the most important changes, opportunities, and innovations in the industry?
We believe that artificial intelligence and cloud computing are the cornerstone to the future of the wind industry, impacting all the businesses of the value chain. Let's focus on wind farm operation since it is our field of expertise. Thanks to AI, in the near future we will see smart turbines capable of learning from local conditions and determining their best patterns of behavior without human action. Instead of having to analyze tons of data, Asset managers and operators will be able to quickly interact with the intelligent turbine to optimize the decision making process and stay focused on the yield wanted.
What are you most excited for throughout 2021 and beyond for your company?
With the US back on board with the Paris agreement, we feel the "Wind of Change" for more sustainable energy. 2021 promises to be a boosting year. Sereema is already present in 15 countries, supervising 1.8 GW of Wind. Our constant progress in AI and digital tools bodes well for the future of the intelligent wind turbine we are speaking about. We are looking forward to continuing to expand the company and move from an innovative Tech company to a Global leader in digital services for Wind.
Should you want to know more about our products, send us a mail at contact@sereema.com . We are also available for networking opportunities directly on #WOM2021 platform.